LIVE MUSIC • The Woodsheep 7:30pm – 9:30pm
June 22, 2018 @ 7:30 pm

-

9:30 pm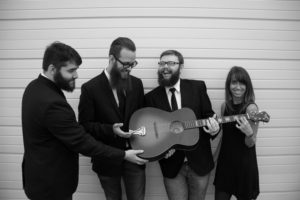 The sound from the mountains of Appalachia has long been swelling at its banks, on the verge of spilling over the confines of folk and electronic music convention.
The Woodsheep aim to highlight the diversity, creativity, and storytelling that abound in their ever-evolving eastern Kentucky home by shoring up their own roots.
Andrew Preston, whose solo records have been featured at the International Bluegrass Music Association Songwriting Showcase and David Austin Tackett, a finalist for Hoedown In The Holler, met as Morehead State students at the Kentucky Center for Traditional Music in 2014.
The folk/bluegrass duet quickly evolved its own sound; Preston's experimental background and inclination to poetry coupled with Tackett's guitar virtuosity and knack for hooks came a blend of folk, electronic, and Americana. The contrast between the two lent itself to a blend of simple and infectious melodies, soaring vocal harmonies, contemplative lyrics, and foot-stomping rhythm. Their shows have since gained a reputation for mixing light-heartedness and nostalgia with inspired lyrics and arrangements; original indie songs mingle readily with covers of some of the greatest Appalachian folk standards.
In 2016, the Woodsheep were joined by bassist Melissa Caskey and drummer Matt Holleran. That same year, their debut record, Watching Mars, was released worldwide, followed by a regional record release tour.
The Woodsheep have performed at private and public venues, radio, television, and festivals, including the IBMA World of Bluegrass Festival, WYMT, The Purple Fiddle, and Bear Radio Network. The Woodsheep have opened for and worked with acts including Jocelyn Mackenzie of Pearl and the Beard, The McLain Family Band, and The Price Sisters.
Since their formation in 2014, all four members of The Woodsheep have been part of the prestigious Mountain Music Ambassadors band from Morehead State University's Kentucky Center for Traditional Music, under the direction of Raymond McLain and Ruth McLain Smith.
The Woodsheep encompass the growing culture of the mountains by tangling their own roots with those of the past. Tradition is ongoing and ever changing, and The Woodsheep hope to join you in forging it together.